Liquid Screed Services
A highly efficient successor to conventional sand and cement screed, liquid screed (also known as flow screed) offers significant advantages to the building trade. Whether in a new build or as part of a renovation project, liquid screed can be used in both commercial and residential applications. It is designed to provide a smooth level surface in both commercial and domestic buildings prior to the application of finished floor finishes and is fast becoming the popular choice for use with underfloor heating giving you an exceptional and professional finish.
Why Use Liquid Screed?
The growing demand for liquid screed has been party determined by the increased demand for underfloor heating systems and for a solution that is quicker to deliver, more cost effective to supply and provides enhanced performance.
Generally, it can be laid substantially thinner than conventional materials. It flows into whatever shape is required whilst filling all gaps and voids and it is accurately laser-levelled to a precision of equal to or better than surface regularity SR2. With almost twice the thermal conductivity of a traditional, thicker screed, any underfloor heating system which sits within the screed wastes very little heat and offers reduced energy consumption.
The demand for liquid screed has also been heightened as it offers a finished floor surface that has extremely low shrinkage; that does not curl and that minimises the risk of cracking.
This new generation floor screed is pump applied (we do have a screed pump for hire service if that's of interest) and combined with the reduced thickness up to 1000m² can easily be laid in a day. The resulting surface is ready to walk on within 24 to 48 hours, so providing minimal disturbance to other trades on site. Combined with the flexibility to force dry the floor, these factors all contribute to reduced project timelines.
In addition to reduced energy costs for the end user, by using a liquid floor screed the amount of carbon dioxide involved in an installation is significantly reduced. Up to 36% of the product is made from recycled material, and gypsum content makes it exceptionally kind to the planet as the amount of CO2 produced is far less than traditional sand and cement. This offers benefits to companies wishing to tap into a customer base that is increasingly demanding environmentally friendly building processes and materials.
OUR COMMITMENT TO YOU
We have built a reputation for our high standard of work on projects of all sizes. We are highly experienced floor screeding and underfloor heating contractors with an outstanding track record.
You can rely on us to deliver your project on time and within budget without any hidden fees.
Liquid Screed Key Features
Increased productivity – 2000m²/day can be easily achieved (For an average 500-1000m²/day)

Can be walked on in 24-48 hours

Extremely low shrinkage – does not curl and minimizes the risk of cracking

Suitable for floating floor construction

Avoids the need for reinforcement

Ideal for use with underfloor heating systems

Significantly reduced thickness when compared to traditional sand – cement screed

Weight saving as a result of thinner section

Large bay sizes of up to 30-40 linear meters depending on application

Dries at a rate of 1mm per day up to a screed depth of 40mm

Can be force dried as early as 7 days after application

Easily achieves SR2 finish as described in BS8204

Protein free – cannot harbour harmful bacteria

Non combustible (tested to BS476 Part 4)

Minimal Thermal expansion (0.012mm/mK)

Excellent thermal conductivity (2.2W/mK)
Liquid Screed Preparation & Aftercare
Of course, we will help you every step of the way, but we have put together a useful document for the preparation of the site and the aftercare required.
HAVE QUESTIONS ABOUT LIQUID SCREED FLOORS? ASK OUR EXPERTS.
Our Services Include
We specialise in these 4 areas, bolt us into your team for a winning project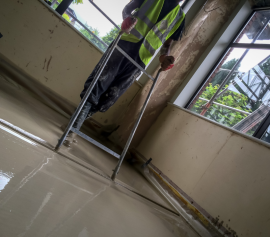 LIQUID SCREED
A highly efficient successor to conventional sand and cement screed, liquid screed offers significant advantages to the building trade.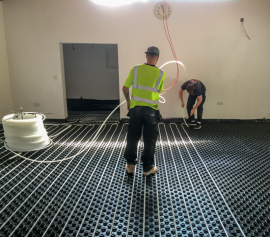 UNDERFLOOR HEATING
A wide range of products that heats up your home during the winter but also can provide underfloor cooling all year round.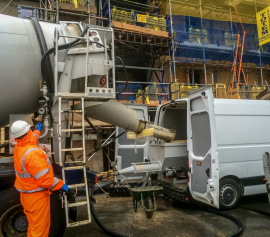 SCREED PUMP HIRE
A screed pump for hire service to any sector of the building trade including the DIY trade and existing liquid screed installers.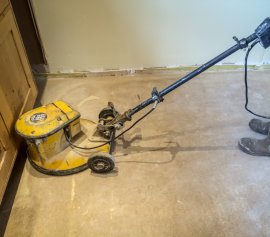 FLOOR SANDING
After the liquid screed has been laid a thin layer of laitance is left on the surface, this means that the floor will need to be sanded.
Our Clients Agree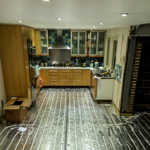 "UK Screed Ltd have been completing many contracts over the years. I always find them hard working and polite.They continuously provided ourselves and our clients with excellent technical knowledge; fulfilling many large projects on time and to budget. I would highly recommend them. "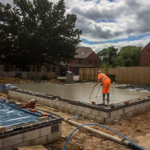 "Uk Screed Ltd has completed a number of projects for us over the last few years. We are incredibly happy with all the works carried out by there competent screed and underfloor heating team. Their work is to a very high standard. As a company, they continually provide us with excellent communication and quality services."